PHOTOGRAPHY COURSES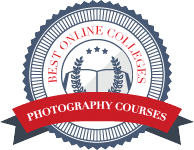 NYIP WAS JUST NAMED ONE OF THE WORLD'S BEST ONLINE SCHOOLS!
The New York Institute of Photography offers nine great online photography courses that allow students to learn photography from anywhere in the world. Whether you are new to photography and want to learn how to master your camera or you've been taking photos for years and you want to know how to become a professional photographer, we have the online photography classes for you.
COMPLETE COURSES
INTENSIVE COURSES
SHORT COURSES
CERTIFICATIONS
 COMPLETE COURSES
Complete Courses are our most comprehensive programs, starting from the very beginning and leading students through each subject in full.

COMPLETE COURSE IN PROFESSIONAL PHOTOGRAPHY
Our most popular and comprehensive course—the gold standard of photo education.

PHOTOSHOP FOR PHOTOGRAPHERS
A complete guide to the most powerful post-production tools from Adobe®.
 INTENSIVE COURSES
Intensive Courses are our intermediate level programs that assume students already have a grasp of basic photography concepts and want to take a deeper dive into one specific area.
 SHORT COURSE
Short Courses are our introductory or beginner level programs that don't cover any business concepts and stick to the basics.
 CERTIFICATION
Professional Certifications are industry designations for photographers who want to grow professionally.